Do you want to improve access to healthcare in countries where patients need it the most? If so, we invite you to share this journey with us!
Worldwide there are huge disparities in health equity. According to the World Bank and WHO, less than 50 % of the world's population has access to basic healthcare. The effects of such health inequities are wide-ranging, from the prevalence of basic healthcare to care methods and health literacy. A4F 's main goal is to address the core issues of the Patient Access Journey. The Movement is now looking internationally for startups, small and medium enterprises with full and partial solutions to tackle these challenges in collaboration with people whose lives are impacted by them.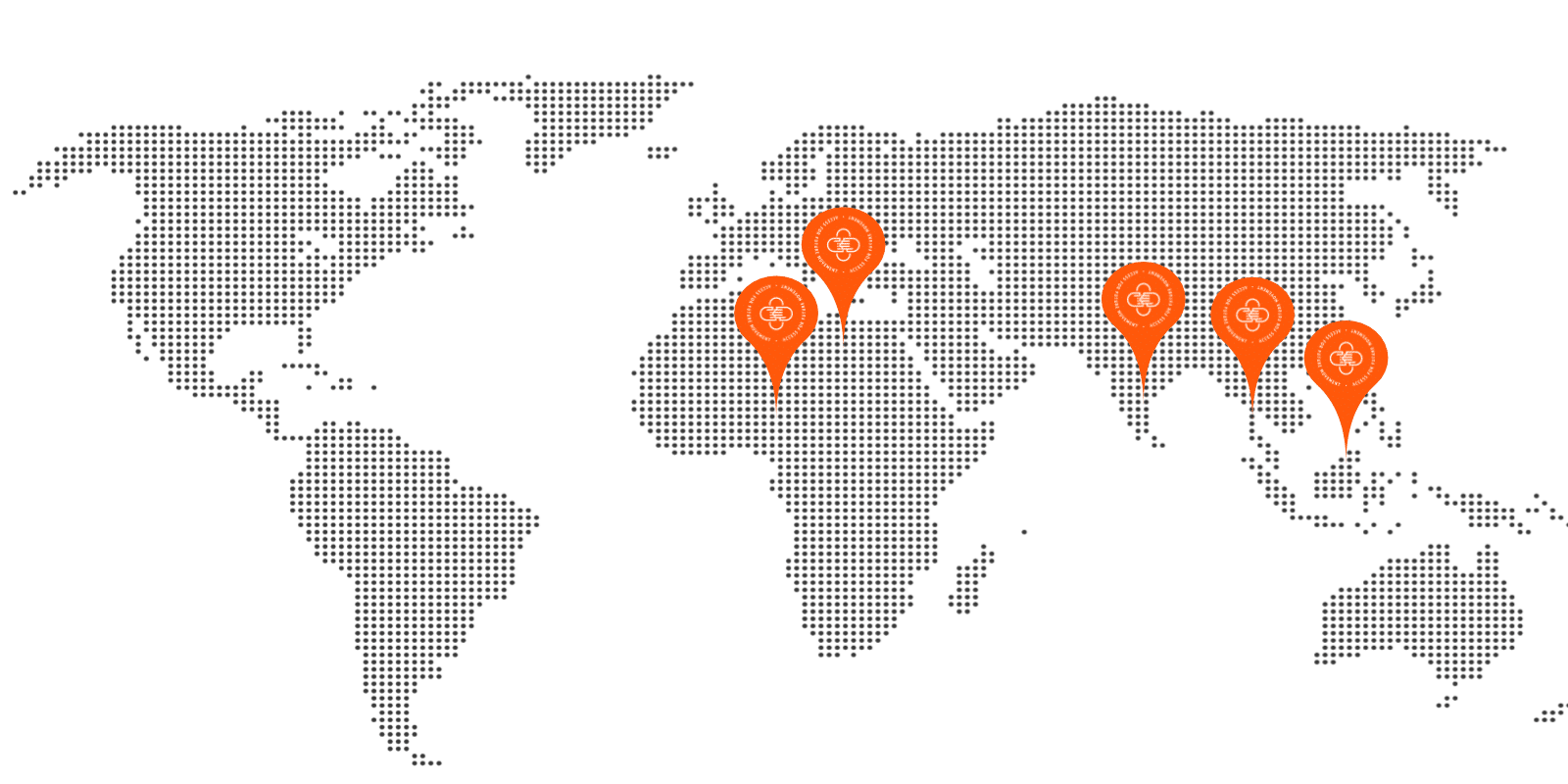 Egypt
Supporting of frontline healthcare professionals in decision making and differential diagnostics through technology
The health system in Egypt is undergoing a nation-wide digital transformation. Systems for Electronic Health Records are put in place. The Universal Health Insurance (UHI) system will be rolled out in all the 27 governorates of Egypt, with 3 of them already operating the new platform. Today, Port Said and Luxor can welcome innovators for enhancing the new platforms' capacities with the further objective of scaling it nation-wide.
"Family physician approach" is being introduced in the frontline of Egyptian healthcare. Currently, family physicians have challenges running differential diagnostics with multiple possible outcomes in mind. Doctors are not equipped with the best, cutting edge technology to ease decision making and plug the patient visit into the digital environment.
We are looking for solutions that will help the Family Physicians (FPs) consider diagnoses, while also giving indications for when a patient should be sent further for testing of more rare conditions. There is a need for solutions that help doctors make informed decisions and consider options that might not always be the most obvious ones. The goals are making primary healthcare of equal quality across the country, saving doctors time spent on paperwork and giving the patients a more personalised care path. Solutions could be e.g. knowledge-based or AI-based support systems for FPs in a differential diagnostics consultation.
Following specifications should be possible:
Upskilling. The solution trains the physician, meaning the logic behind it has to be transparent.
T2D and Cancer Focus. Primary treatment and disease focus areas are T2D (type 2 diabetes) and cancer (starting with a focus on breast cancer and HCC that are prevalent in Egypt).
Data Protection. We are seeking solution providers globally who can locally port their solutions into the Egyptian NHC system. Your solution should comply with the local data protection law.
Context Localisation. The solution must be adaptable to the disease prevalence of Egypt. HCP-facing solutions can be in English. Patients, nurses and the paramedic staff interface with the system in Arabic.
System Integration. The solution can be plugged in electronic health systems currently in place, e.g. referral system should be taken into account. The data capturing should be done by the doctors themselves. ICD-11 is used for diagnosis and ICHI is used for the procedural log.

HIE (Healthcare Information Exchange) layer by Dedalus (formerly known as DXC) will be the primary platform to port to.
Thailand
Solutions for Patient Data collection, integration, and analysis (for both pre-and post-hospital stages of treatment)
Thai hospitals and healthcare ecosystem stakeholders are aiming to better serve, diagnose, and treat patients with the use of cutting-edge data-driven technology. Through the collection of pre-and post-hospital data, our local partners aim to increase remote-monitoring, data-sharing, and data-driven diagnostic capabilities. 
Solutions which help patients can increase access to service & treatment and streamline digital processes are very valuable as the COVID-19 pandemic has increased doctor's workloads, patient waiting times, and the safety of face-to-face meetings.
Nigeria
Challenge 1 – Increasing awareness of insurance services and their benefits from a patient perspective
In Nigeria, the lack of healthcare coverage is one of the most notable barriers to access to healthcare. Only 3 percent of the total healthcare expenditure in Nigeria is paid for using health insurance. Furthermore, the National Health Insurance Scheme (NHIS) covers only approximately 5 percent of the population with enrollees constituting largely from government employees and their families. According to recent studies private insurance, in turn, covers 1.5-2 percent of the population. The challenges that come with low health insurance coverage include topics such as catastrophic costs of healthcare, geographic inequality between rural and urban areas as well as people plunging into extreme poverty due to healthcare expenses. 
According to the mapping done by the A4F Movement, including a number of the most notable contributors to the Nigerian healthcare system revealed that the number one reason why Nigerians are not seeking to get covered is lack of awareness of insurance benefits. To endorse this observation, recent Nigerian polls suggest that the majority of the uninsured population would be willing to pay small monthly fees to get enrolled for health coverage. Secondly, a major issue preventing Nigerians from accessing insurance coverage is the exclusion of pre-existing health conditions and rigid payment terms. With this challenge and adjacent pilot, the Access for Future Movement is looking to increase the awareness of the benefits of health insurance as well as developing insurance solutions that more Nigerians could access.
If you think your company is in a position to start tackling these challenges, apply to join! If your company ticks one or more of the capabilities below, we would be excited to see your application and discuss more. 
We are seeking solution providers globally who can
Help us create high impact awareness of insurance benefits among the Nigerian population

Help us articulate the benefits of health insurance for the Nigerian population

Help us deliver a digital solution pilot for Nigerians to navigate the health insurance information better

Help us develop innovative insurance solutions with the inclusion of pre-existing conditions and flexible payment terms
The piloting partners for this challenge are Hygeia HMO, PharmAccess Foundation, and Roche supported by the NHIS and endorsed by the Federal Ministry of Health
As the selected solution provider your company will get 
To co-create with these A4F piloting partners during the pilot

To tackle one of the direst challenges in Nigerian healthcare, a country of over 200 million people

Access to A4F extended ecosystem

New business opportunities and visibility with the A4F Movement ecosystem

An opportunity to scale your solution up inside the Nigerian market as well as other A4F countries
Start tackling the challenge and unlocking access to healthcare by submitting an application on behalf of your company!
Nigeria
Challenge 2 – Upskilling HCP:s in disease and treatment monitoring
HCPs and patients in Nigeria do not have sufficient access to modern disease and treatment monitoring tools. The lack of quality monitoring leads to late diagnosis. On top of that, weak surveillance data. The results of this are twofold: Firstly, Nigerian patients' treatment is not monitored, which significantly lowers recovery and remission rates. Secondly, the lack of nationwide visibility of healthcare resources and needs prevents directing the limited number of qualified personnel to hotspots.
Help us solve the challenges of disease and treatment monitoring in Nigerian healthcare by applying for the challenge.
Selection process
We are looking for applications worldwide. All longlisted applicants will be contacted for Q&A, after which we will make a shortlist. Shortlisted applicants will present their solutions to the Movement partners.
Piloting
Shortlisted applicants, will pitch for a funded pilot of their solutions with real patients in A4F countries. Each country will coordinate a piloting setup with relevant partners, who will support your presence in the local market. Successful solutions will be scaled to the market with A4F partners in listed countries and around the globe where these challenges recurrent.