"Humane health is why we are in this industry in the first place. Trying to solve problems for the social good."
"Healthcare with a big H" – that abstract system of entities including everyone from healthcare providers to administrators, payers to insurers, pharma corporations to healthtech startups, and all the way to patients – tends to see each player delving deeper into highly specialized areas rather than building bridges across the ecosystem, and big-picture cooperation can be easier to talk about than actually do. 
That's why author, speaker and healthcare futurist Tony Estrella works to bring all these players together to solve major challenges. He calls his mission Humane Health, and by pursuing both personalized healthcare and health equity, Tony believes we can create a better healthcare system for patients. 
We caught up with Tony during the first-ever Radical Health Festival and spoke about the major themes of the event, the evolving role of technology in healthcare, and change management at large scale. 
Tony, you speak at dozens of events globally. What did you think of Radical Health Festival? 
My overall impression was that this is a really great event because it felt like a global event taking place in the Nordics. With 50% of the attendees coming from outside the Nordic region, it felt like a very representative European conference, and with the combination of clinicians and patients, it was more than the typical business people gathering together to figure out what business model changes and tech innovations affect health care. It was much broader in context.
When you headlined our Future of Healthcare event last November, you spoke about the health care system at a big-picture level and explored ways of solving the major challenges. At Radical Health Festival, a big part of the event – including your streams – was focused on the use of data in healthcare. 
It's important to really explore why we need data rather than just looking at the uses of data. There was already a lot of talk around global trends like AI and how it affects patients and doctors and patient journeys, so I wanted to focus on a pragmatic view of business building and venture building.
What are some of the realistic milestones and benchmarks that companies and investors should align on in a data-oriented company? How do you project what is meaningful as a business? 
Compare a company that operates with 10,000 clinicians right now, in three or four countries, with another company that works with 80 countries and has millions of customers and millions of data points. Being realistic is using benchmarks of what other companies are able to accomplish. If a startup says its potential market or addressable market is billions, how many companies have ever achieved that? Look at the tools or services or interventions that really truly affect millions, hundreds of millions and billions – according to a book by Steven Johnson on longevity, there are only three or four proven and sustainable solutions that truly affect billions of people, and toilets and sewers are both on that list.
There has to be a sense of realism and pragmatism around venture building at the core of what we're doing.
I also wanted to put a frame around the excitement about data and technology in AI, and why it matters. I focus on humane health –  the intersection between personalized health, which is tech innovation and the shift to having more prevention-focused health care, and health equity, where we're addressing health disparities that affect all countries.
Humane health is why we are in this industry in the first place. Trying to solve problems for the social good.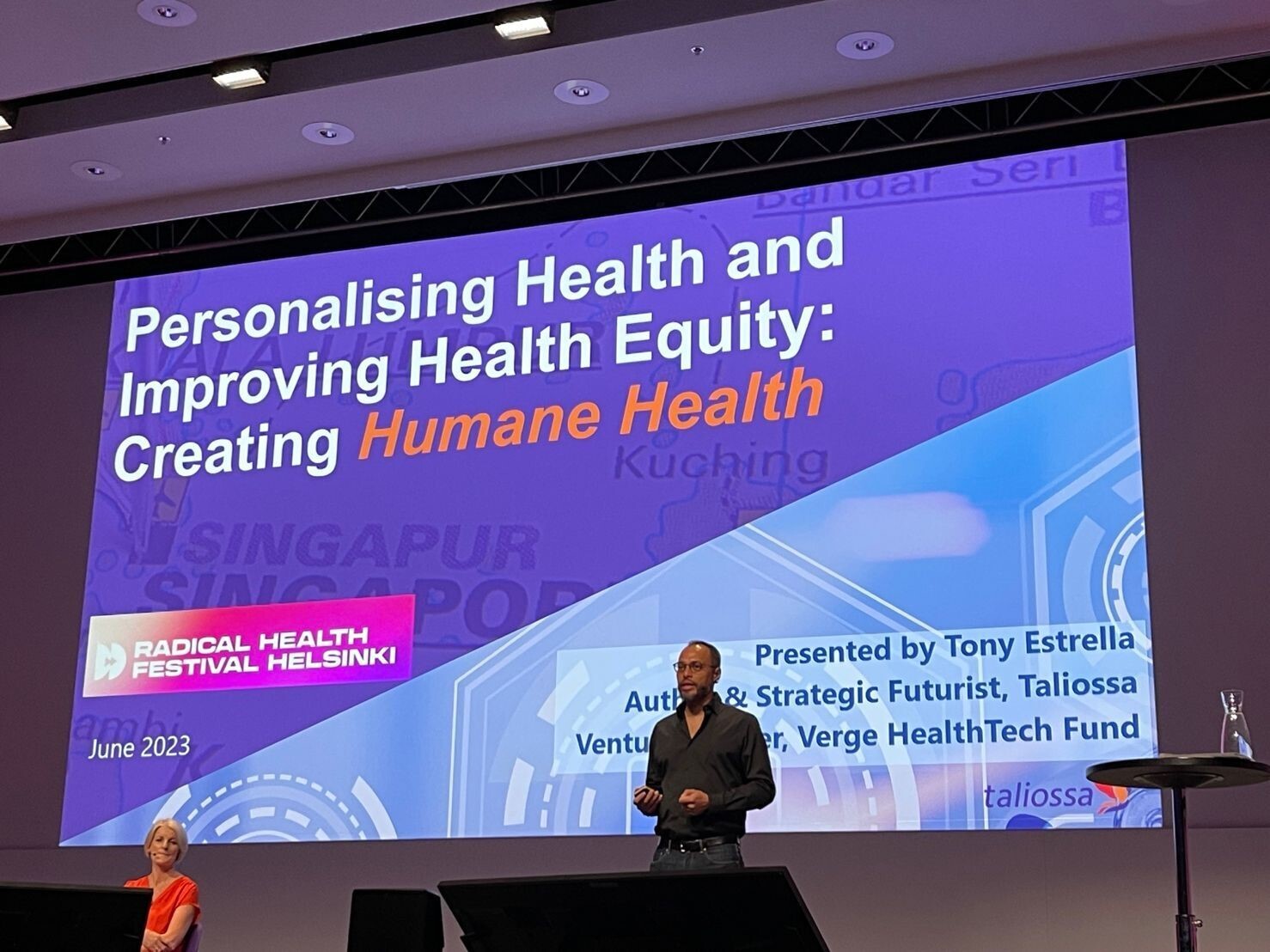 There's a tendency in many industries to look at emerging technologies and instantly think they're some kind of silver bullet. Think of ChatGPT, AI, "data". What do you do when you get into a conversation where people are leaning on technology as the solution rather than a way to get there?
We have to make sure we think of technology as an enabler. Through my company, I've been able to develop frameworks which help stakeholders across healthcare come to a common understanding of what role technology fills in the lives of the person who's affected by a health challenge. 
And this is really about figuring out what triggers an individual to start taking some sort of health action. You can't change someone if they're not willing to take that first step by themselves. That is the non-tech starting point that should guide us to then say where and how, as a tech company or an insurance company or the health system, do I fit into an individual's journey?
As one example, the Closed Loop Journey framework I've developed is based on my 20+ years in healthcare in working with and across various stakeholders including insurance, pharma, startups, and public health. This journey maps how people are able to manage and juggle multiple health challenges. And the first step in that journey is not a tech step. Instead it's a human step and technologies fit into this. Whether it's mental health or cardiovascular health or preventative steps or being part of a clinical study, there's technology that can fit anywhere. But the first common step across any circular journey is self awareness.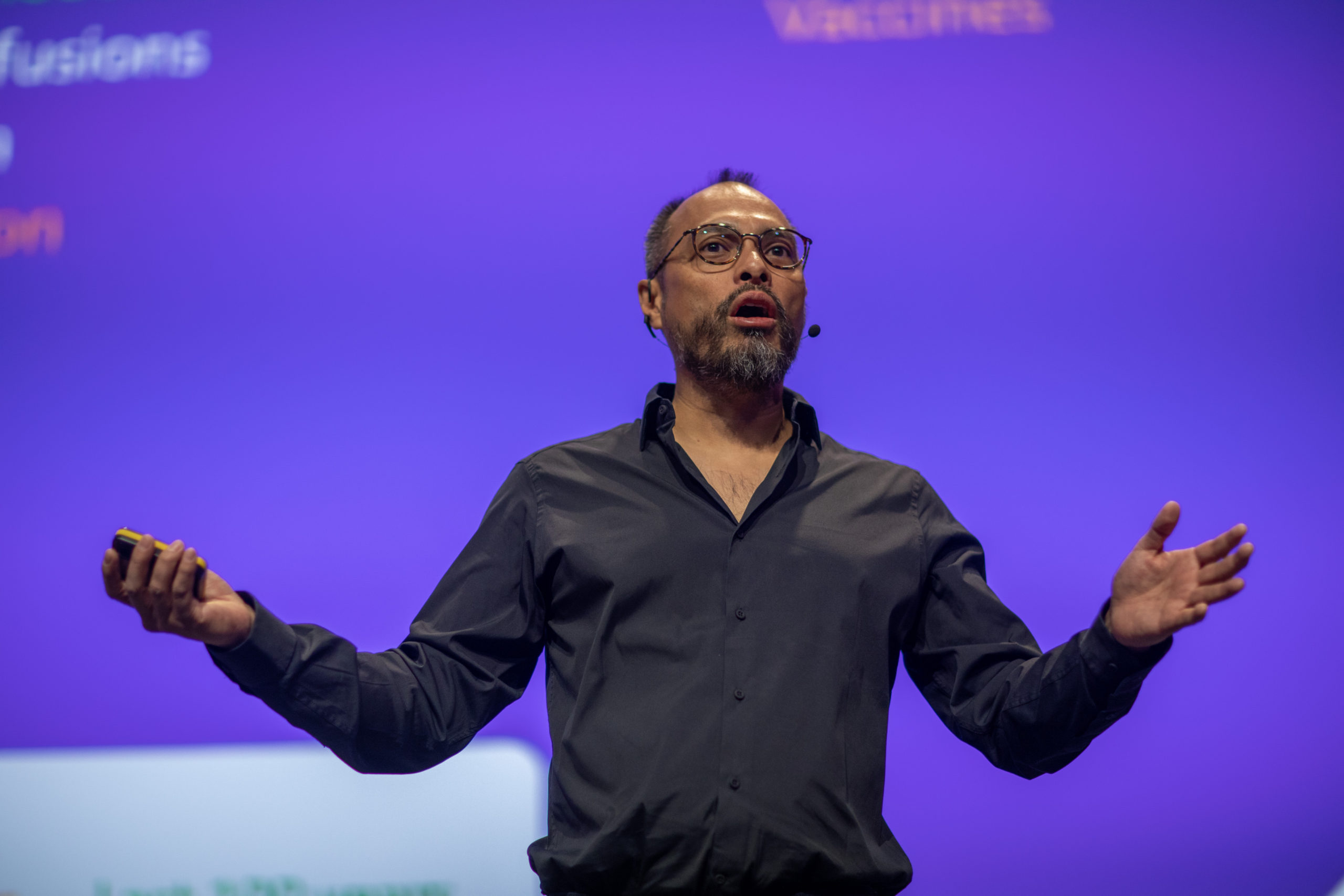 Both of us are working to lead companies through change of various kinds. It might be bringing them towards greater levels of patient centricity, customer centricity, or coping with the advent of new technologies that they may be ill-equipped to use. What are the biggest dropping-off points you see for companies when you're trying to lead them through a change? How do you alleviate them?
In pushing new thinking in organizations, whether it's pharma organizations or insurers or public health organizations or health systems on a global basis, there's a common theme found in the acronym used by some organizations of BAU – business as usual. The momentum to resist change is a constant. Any time you introduce a new way of thinking or are trying to inspire and motivate change, there has to be a recognition that the current way of doing things becomes a barrier and it may not be on purpose, it may not be with bad intentions.
But if you look at incentive structures, whether at the macro level and how investors are incentivizing boards of companies and therefore the C suite to operate the business, or individual incentives for performance and salary, they all matter because you're being compensated to get to a particular end point by the end of the year. If you're suddenly told to prioritize a new change activity, then there should also be a corresponding adjustment to incentives.
The organizations that do a great job of adjusting incentives are the ones who see that impact become real at a faster scale because they've aligned all the variables of trying to adjust from business as usual to the new method and create the appropriate weighting relative to what they need to do as a business versus those who leave that as a second step.
The other thing that's important is the ability of the management team and leadership group of organizations to become adaptable to the external environments that are affecting their companies.
ChatGPT and AI come up a lot. If you aren't paying attention within your organization as to what's happening with AI, then you're behind right now.
It doesn't mean you need to implement AI, but you need to really understand what it could do for your particular products and services and start to figure out how to become adaptable to those changes.
–
Based in Singapore, Tony Estrella is an author, strategic futurist, and business builder focusing on Personalized Health and Health Equity globally through Taliossa. He was the keynote speaker of Vertical's Future of Healthcare event and a headline speaker at Radical Health Festival. You can learn more about Tony at his site, tonyestrella.com and his latest online initiative, a Substack devoted to the idea of Humane Health.
(Image credits: Radical Health Festival Helsinki)