VTT Technical Research Centre of Finland is inviting partners to innovate and disrupt the fashion industry. We intend to create new materials for the textile, fashion, and wearable industries from textile waste streams using bio-based solutions.
In autumn 2019 we screened up to 30 start-ups in Finland and beyond to initiated innovation projects. From this came the immediate need to build a new value chain for biotechnology solutions from textile waste. This initiative is supported financially by Business Finland.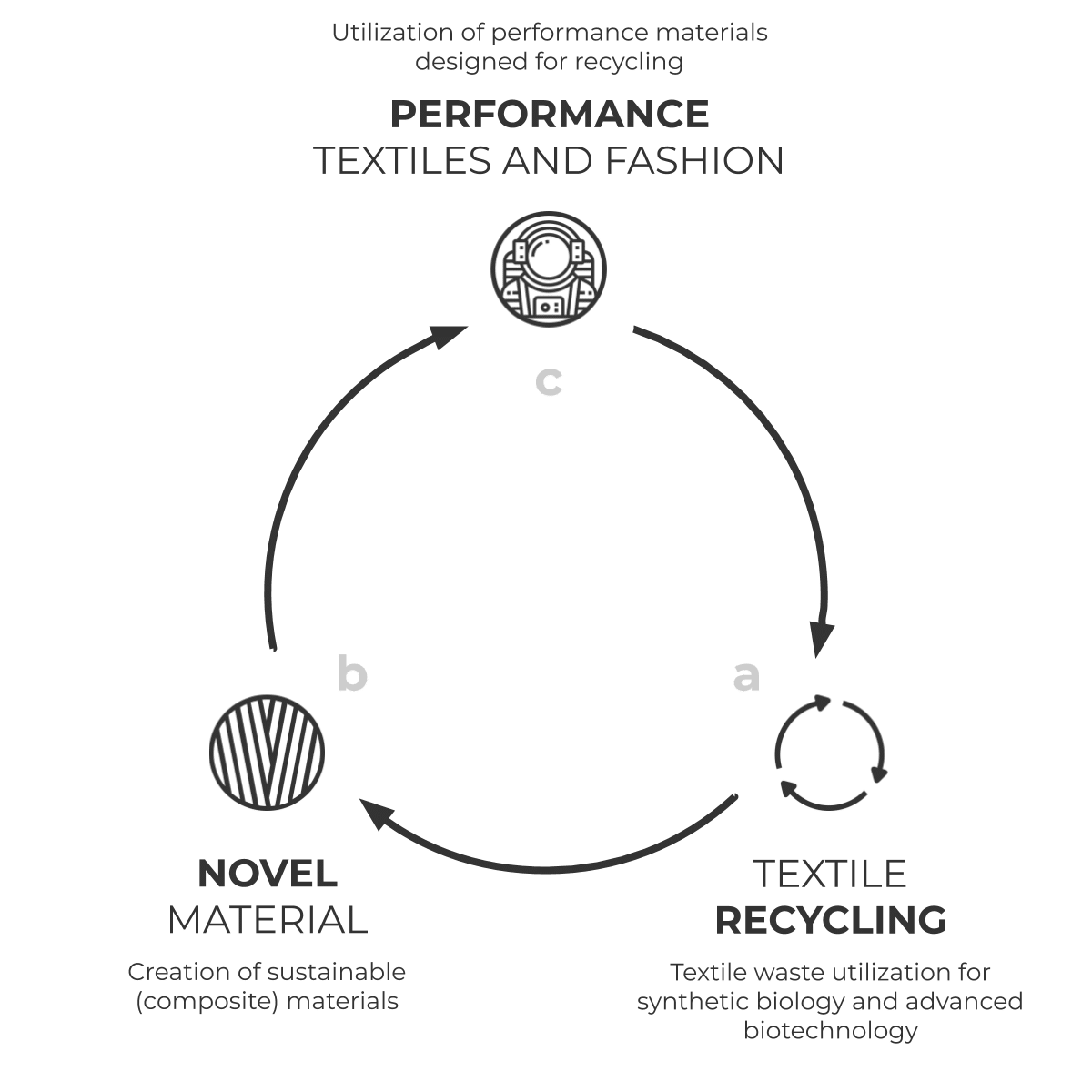 Three classes of problems and technological solutions
Textile Recycling
Valorization of end of life products and side streams by use of biotechnology (incl. mixed waste, dyes, plastic).
Novel Materials
Created from textile recycling stream by use of advanced biotechnology (e.g. protein-based fibers, vegan bioleather, biodegradable plastics & dyes).
Performance Textiles & Fashion
Design and creation of performance materials of a broad range, including textiles, garments, accessories, coatings, sensors, composite materials, etc.
Companies within each class create value for companies in the next class. New materials will be designed for recyclability and can be used by companies of class 1 to create a circular economy model. Since this transition is gradual, the business models will change during the creation of the value chains and recycling of current textile waste.
What is it about?
Together with our industrial partners, we are looking to start joint experiments on the new solutions during an initial 2-year co-innovation project. This will create a new and unique ecosystem in Finland related to material science and biotechnology.
VTT will lead the application process and invite all Finnish companies to join the ecosystem of synthetic biology innovation. Selected foreign companies are also invited to join.
We are partnered with SynBio Powerhouse, the Telaketju initiative, and have access to global networks to scale up operations. Joining these projects allows your company to discover new value chains, create new partnerships and find the right investors.
We need partners that are ready to disrupt the industry and share our passion for sustainability. We are also looking for industries to bridge between their current activities and the transformation towards a bioeconomy.
Within the Business Finland co-creation project, we will build the consortium, identify new value-chain and link them. The WaWe consortium will submit Business Finland co-innovation application in autumn 2020 and the target is to launch the project at the end of 2020. We hope to have your company name listed in our application!
What's in it for me?
The sustainable garment industry is projected to be ~ 90 billion USD by the year 2023 with a CARG over 10%. In addition, textile recycling is an emerging industry.
Here, side stream utilization to create sustainable materials for the textile, garment and wearable industries creates a new value chain. VTT is partnering globally to establish export opportunities from each of the 3 classes of the WaWe initiative. As such, there are opportunities for large companies and start-ups:
Are you a large, mid-cap or a small company?
For you joining WaWe is an opportunity to establish parallel Business Finland projects that tie in with the WaWe initiative and tap into the value chain with Finnish and global partners.
Are you a start-up?
You will gain access to partnerships with larger companies. Joint innovation on new value chains will let you go ahead of your competition while partnering with major players on the market. By paying a reduced participation fee you will get the first right of usage for sustainable innovations coming out of this work.
Commercial R&D
VTT offers support in your application for Business Finland R&D project funding. The results of such a project are fully owned by your company.
Business Finland provides matching 50% of the funding to the project funded another 50% by your company. VTT may aid with application pitching, if necessary, and will provide a framework for collaboration within the WaWe project. We are excited to invite you on-board as soon as you apply — this way you have the greatest influence on the processes and priorities of the WaWe.
Public R&D
R&D Consortium led by VTT and the board of the WaWe members is open for companies to join at a participation fee. By joining, you will have an influence on the content of the research, and have the first right of usage of the results.
The consortium will run in parallel to your company's R&D projects. All companies make a participation notice to a public research project. The size of the participation fee depends on the size of the company and the guidelines of Business Finland, we will share details with you upon your inquiry.
To apply, explain to us pain-points of your business (e.g. unutilized side-streams or a need for the new chemicals and materials) and your project aspiration within WaWe. We will continue with a workshop to discuss your participation.