Turn on the evening news on any given day and you'll likely hear variations on the same theme: The healthcare system is under pressure to change: Modernize, digitalize, speed up, be more efficient. But where does all this change lead to and what does the future of the healthcare system look like? Vertical set out to answer these questions and more in the Future Trajectories of Healthcare study.
Value- based care, digital treatment and public-private collaboration in Finland
Healthcare is going through a massive transformation. Demographic changes are causing a shift in the resources that supply both the public and private sectors, patient expectations have evolved, and a sea of technological changes can be hard to keep up with. 
For pharmaceutical companies who have long been at the center of the healthcare industry, what does the shift mean? How can they continue to provide treatment for diseases and ailments that range from the common cold to cancer? And what could the future of the healthcare system look like?
The Future Trajectories of Healthcare study
A number of global pharmaceutical companies (including Takeda, Boerhinger Ingelheim, Novartis, Amgen, and Abbvie, among others) joined Vertical to carry out a study to understand how value-based healthcare, digital treatment, and public-private collaboration are perceived in Finland, what are the potential benefits and risks found in potential future models, and what steps would need to be taken in order to steer Finland's healthcare system through disruption successfully.  
In the study, we interviewed 23 healthcare sector experts and practitioners in Finland to find out how the next decade could develop.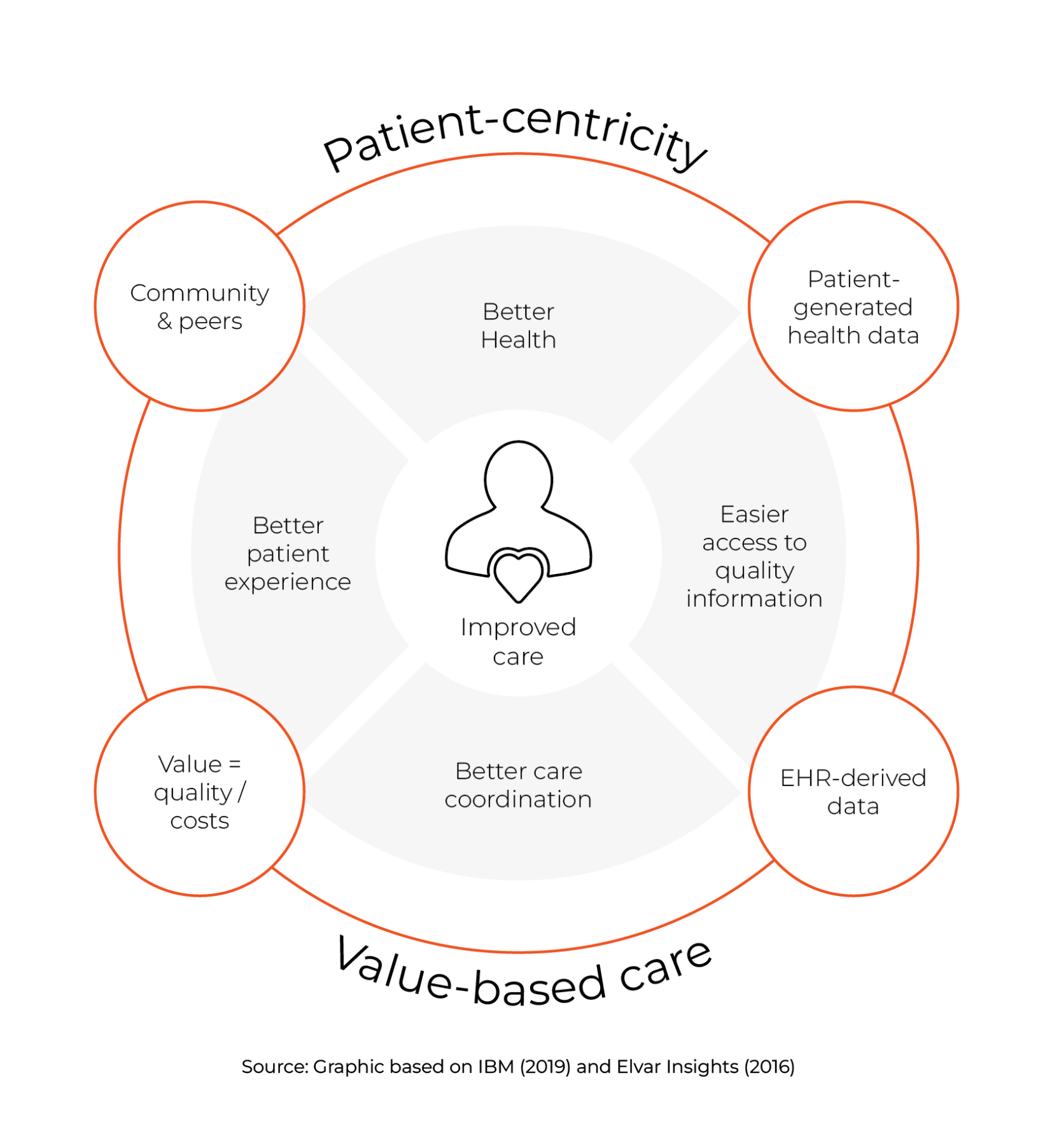 Methodology
From the start, we knew we needed a clear picture of the playing field, so our first steps were mapping out the healthcare market and value chain and identifying key development areas such as value-based healthcare, digitalization, and collaboration.  
Then, it was time to start talking with the experts. We reached out to key decision makers and experts in our network and and held 45-minute interviews on the topic – with many discussions continuing in a second round. Armed with high-quality insights, we analyzed the findings and brought together the key roadblocks, recommendations and actions, many of which were raised up by nearly all the participants, into the report.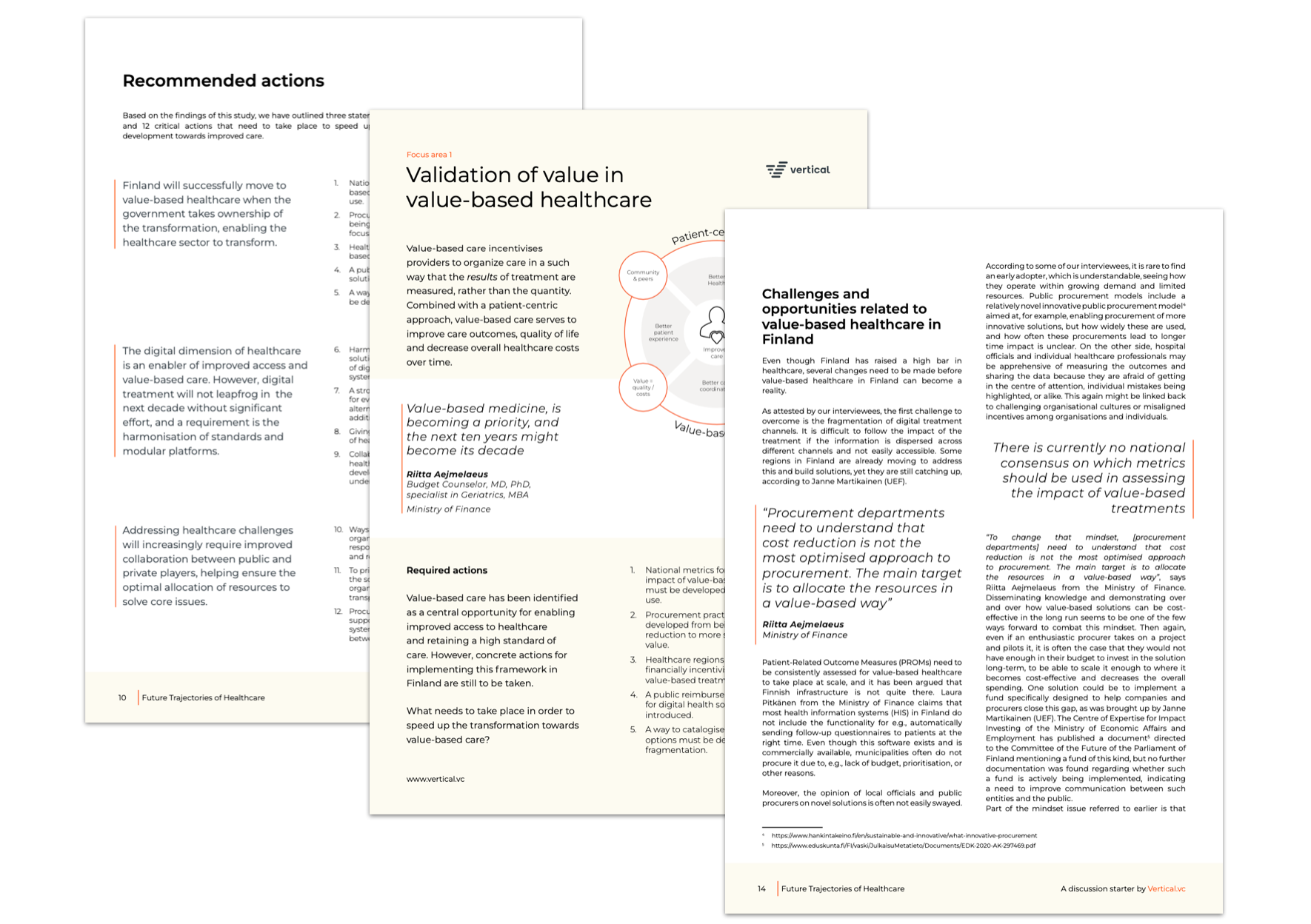 Key findings of the report 
You can read more about value-based healthcare in this article and learn more about the outcomes of the study by reading the summary. Here are some key conclusions: 
Both public and private sectors view a value-based model as a way to make healthcare more efficient yet still be able to provide a high standard of care.

Public-private collaboration is the key to achieving a real-world, functioning value-based care model. 

The role of the government as an open innovation partner will grow. Due to the healthcare system's complexity no single organization can radically change or improve the system alone, but rather it requires the collaboration of all key stakeholders. The government controls key parts of this system.

Pharmaceutical companies will become holistic partners to the healthcare system because in the shift to value-based care, all players will be incentivized to ensure effectiveness of care over time. Thus, supporting the overall quality of care will be central to the operations of most pharmaceutical companies going forward. 
Conclusion
At Vertical, our human-centered approach to these challenges leads us to dig deep into questions of cause and effect, and allows us to debunk assumptions. The healthcare system is under increasing pressure, but with the right understanding and insight, this pressure becomes an opportunity to renew the system for the better.
Whether you need to better understand patient needs, how healthcare professionals' daily work is developing, or what new technologies or digital patient solutions are hitting the market, we are eager to discuss our human-centered approach and how we can help you challenge the traditional, slow-moving ways of the industry. 
Contact Kenneth Salonius at kenneth@vertical.vc or +358 50 517 2348 to discuss more.